Your free OpenGeo Suite Server companion, based on Boundless Geospatial enterprise solution for web mapping. A complete geospatial platform for managing data, building maps and applications across web browsers, desktops and mobile devices. Publish your data using WMS and WFS map services (GeoServer 2.6) that can be stored on a relational database server (PostgreSQL 9.3.11+PostGIS 2.1.4), just right from your personal computer.
It's a ready to use and lightweight ubuntu server virtual machine with several network services and configurations that ease the data communication between the virtual machine and the physical machine in such a way that allows GISVM to function as a server machine within your computer network.
DOWNLOAD NOW and get started with:
What's inside:
Ubuntu 14.04.3 LTS Server 32bit

Private (NAT) & Local (Bridge) networks
Apache2 Web server & PHP5
Samba – windows network
OpenSSH
Webmin 1.780
Shellinabox

OpenSuite Suite 4.6.1

PostgreSQL 9.3.11 / PostGIS 2.1.4
GeoServer 2.6 (WCS, WMS, WFS)
GeoWebCache
OpenLayers 2 & 3
Boundless SDK
GeoExplorer
natural earth sample

PostgreSQL 9.3.11

PostGIS 2.1.4
phpPgAdmin
postgis sample database
natural earth sample data
Get a look at the QUICK START MANUAL to understand how you can run and use it.
Click below to read online or click here to download the PDF version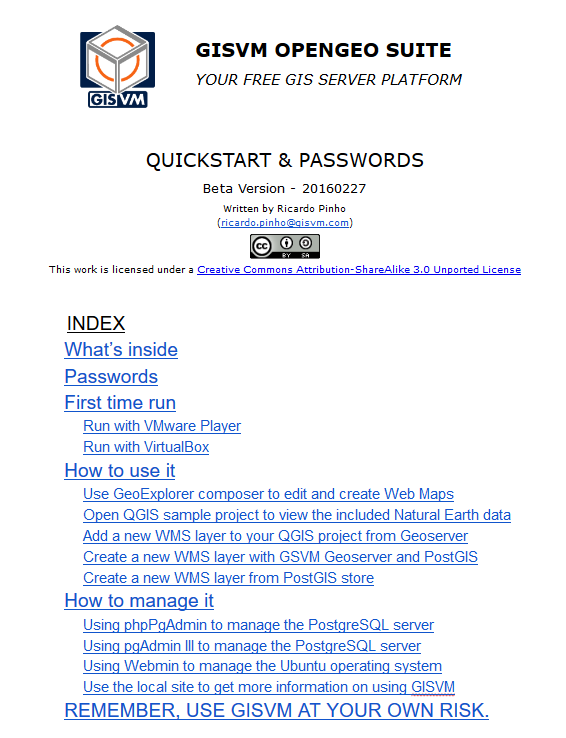 Have fun!